Today marks a very special Mother's Day, as our family recently welcomed a third generation.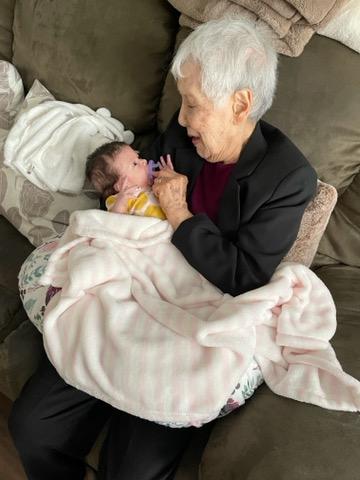 The arrival of a sweet young daughter born to my nephew and his wife mean my wonderful Mom is now a great-grandmother. The day she got to meet this sweet new baby, my sister-in-law told me Mom sang a Japanese lullaby as she held her. It brought back memories of Mom singing to our own daughters when they were little too. And from that precious memory came this Haiku
Three generations
Radiating from one heart
Mother's love lives on
Although I have grown used to being geographically distanced from my daughters, being without them today carries more impact after over a year and a half of unexpected separation. So as we honor this day I am also mindful of those for whom the day is more heartbreak than celebration. I sat in meditation this morning and spent some time sending blessings of Divine Mother Love to those grieving the loss of a child, a mother or the absence of relationship with a mother. May we all feel held in the Sacred Space of unconditional Divine Mother love.
~ Walk gently on the path my friends and let Love Light the way ~