So fellow travelers, thanks to freezing rain,  I have been given the rare gift of a few extra hours this morning before I have to slide into work.  Since the call from our district office came just as I was headed to the garage to pull out my car, obviously I'm a cup of coffee or two past going back to bed.
So my dog and I are taking advantage of the chance to watch the sunrise create a beautiful painting framed perfectly by the large picture window in our living room.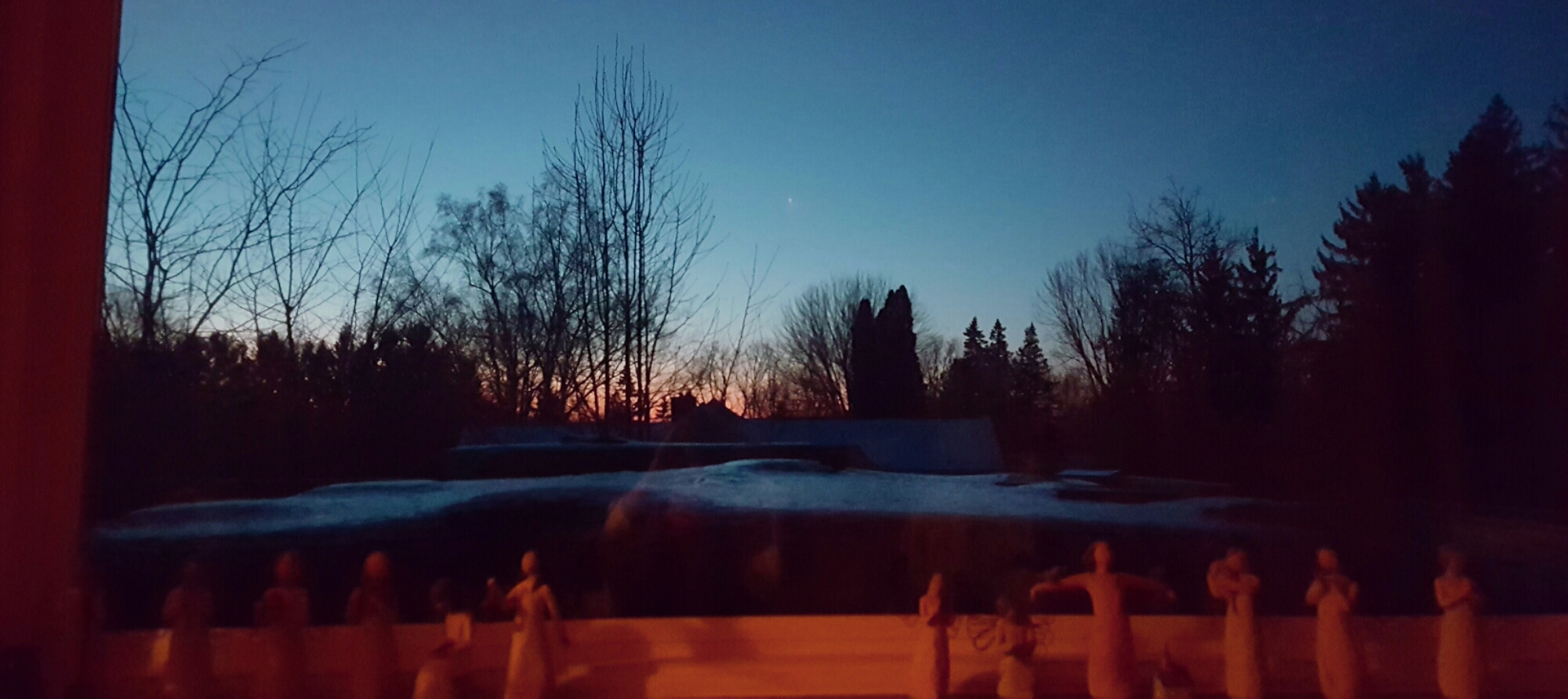 Angels watching the sun rise
Since the first day of this year, any time I have been graced with a clear view of sunrise or sunset, I've felt a deep sorrow in my heart. I've felt strong emotion at day's beginnings and endings before, as the significance of each passing day rises to my  awareness.
This is a different experience, broader in range, stretching further into the future, reaching deeper into my soul. This time, the effects of impending change impact a much wider circle than me and my immediate family.
 I am not one to take a "things are ok in my life, so no need to worry" stance. Nor am I prone to give in to the alarmist doom and gloom headlines that have become increasingly pervasive. I am made of stronger stuff or so I thought until the plot twists of history shook my faith in my fellow citizens, some of whom I consider friends or call family.
This morning, given the grace of a few extra hours to process those feelings which rose with the sun, I confronted the sense of foreboding head on.  Words heard last night echoed in my memory and it finally hit me, 
Eight years ago, we did "change the world." We changed it enough to create the angry push back we see now. Bully tactics are cruel but lack the lasting power of true community; such systems eventually collapse under their own weight. 
In the meantime, anyone who is resolved to create a community of equality and freedom for all who seek will need to stand firm in the face of injustice and misinformation. Already, there are signs the push back to authoritarian rule may not have as much support as feared. As a true leader just quoted his wise mother  "Reality has a way of catching up with you."
So, while the colors of sunrise melded with the grey winter sky, I sat down to write. I did not make any New Years resolutions this year, yet I see clearly my ability to focus was clouded by fear.  Now I see, I feel and I know the task before me.
As we cycle back through this spiral, I am resolved to deepen my practice of compassion. I will seek out every opportunity to make a difference, to bring hope to those in need. And when reality hits hard, I will  extend a hand in kindness, reaching out across dividing lines with compassion. I know I cannot address every issue that will raise it's ugly head, but I can find my points of focus and begin there.
A year ago I stood at a crossroad and made a choice to walk away from a path which wandered too often into personal  darkness. Today I stand a week away from another turning point. As a member of a spirited community of honest creators of Light I feel empowered to yet again choose the path of hope.
Anger may have taken the wheel for a few years, but it won't be my driver . 
Walk gently on the path my friends and and may adventure find you ready.