So fellow travelers,  our Bedlam Family had to say goodbye to someone we loved as one of our own.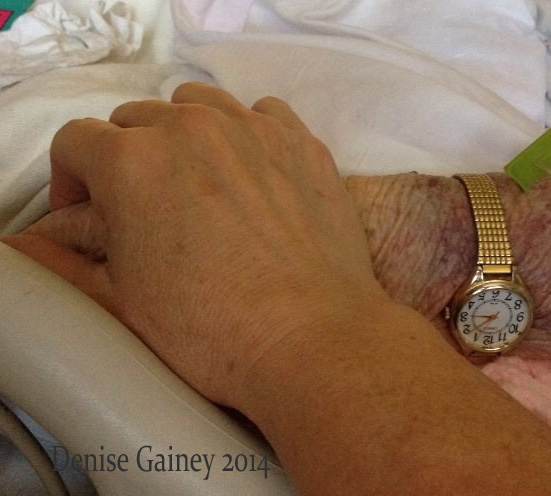 Dorothy moved from earthly body to heavenly spirit yesterday morning.  We will miss this vibrant woman who had become our "group Mom," through the wonderful writing of her daughter Denise Gainey.
Denise put love in it's most vulnerable form right on the page in words and pictures for everyone to experience, secure in the knowledge our safe haven would protect the precious gift she brought us. We may have bolstered her courage to write but she gave us the courage to love in the face of death.
The power of Dorothy's story comes from the honesty with which Denise wrote.  As we read her posts, we "felt like a friend watching from the back of the room," as one member aptly described. Whether it was a story about missing dentures or a moment of soul searching questions about heaven vs hell, Denise brought Dorothy from the page right into our hearts where she will continue to live on. The tributes fellow members have been  sharing make that clear.
Those tributes have none of the "I'm sorry for your loss," comments which usually fill a Facebook wall post about the death of a loved one.  Instead, the comments  are full of  genuine empathy and gratitude for the gift Denise has given in sharing her Mom so honestly with us. This is a significant difference.  It shows an awareness of true connection rare on social media. It has changed my life, in a way I was not fully aware of until a recent pilgrimage I made with my own Dad.
Denise and Dorothy's journey through the dark shadows of life's end and the grace with which they faced the inevitable ending created waves of  healing which blessed us all, sometimes in unexpected ways (Kathy Suszczewicz's blog entry is a powerful example.) Many reached out to reconnect or simply made time to do more with their parents.  In this way Denise has, as another member wrote, "made us all better people for the love and devotion (she) showed in (her) thoughts, words and most importantly, actions."
While death brings heartache, there is no greater way to honor someone than to live with the joy they brought to life. Denise and her family have chosen to hold a celebration party for Dorothy's friends and fellow residents at the senior apartments where she lived. There will be cake and music and stories and perhaps a round of Dorothy's favorite chocolate milkshakes.  Nothing brought a smile to Dorothy's face like the sight of her "Neese" walking through the door of her apartment, chocolate shake in hand.
 I have a feeling Heaven has a new favorite snack.  Milkshakes all around, bless you Dorothy.
Walk gently on the path my friends and may adventure find you ready.