So fellow travelers,  we return to the shores of Cayuga Lake on the way to beautiful Robert Treman State Park.
It took two repair calls to get the camper on the road, the first crew having arrived without the necessary tools.  Who shows up on a roadside assistance call without jacks or tire irons? No matter, the second crew not only put the spare tire on the camper, they offered to take the rim with the blown tire to their shop, get a new tire mounted, bring it out to my campsite  and put it on the camper so I don't have to drive all the way home on the spare.  I pay for the new tire with  labor costs covered by my Triple A membership.  Yes, on second thought, how grateful am I that first team showed up unprepared.
A photo from the gardens by the parking lot I took while waiting….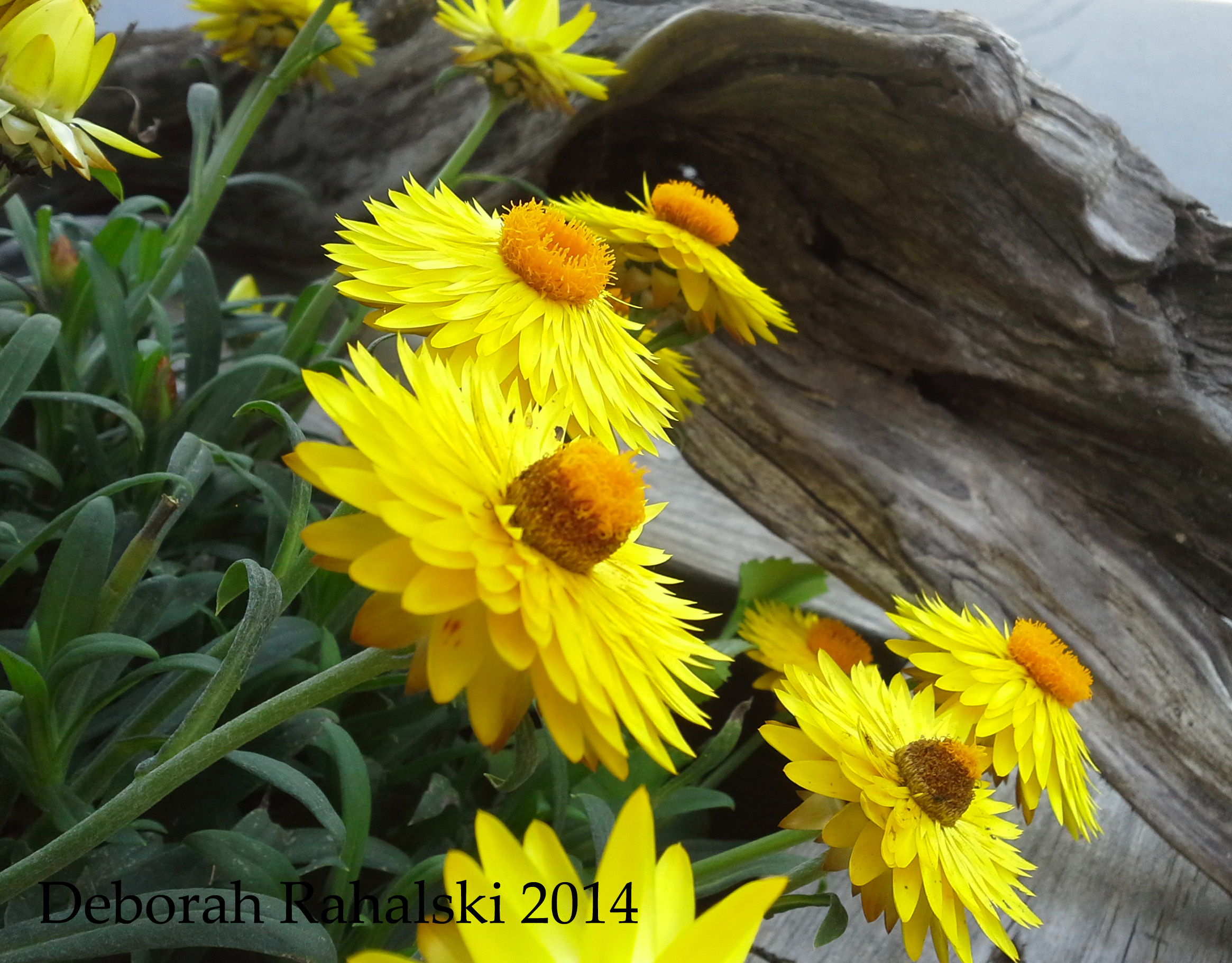 Back on the road two hours later, I arrive at the campgrounds. My friends are thrilled to have me safely on site, Sammy is relieved the dog treats are intact after the tire incident.
 Robert Treman State Park  features a swimming hole at the base of a waterfall and two steep but spectacular trails along a gorge which lead to another waterfall.   Gorges and waterfalls are two elements which draw me back to Ithaca.  Greenstar Co-op and the bountiful, diverse farmers market add to the appeal. Both are well managed sources for delicious, locally produced, organic foods.  Fortunately the weekday summer market was still operating so after a few days of relaxing at camp we headed into town to stock up.
 Sammy worked the crowd at Dewitt Park while we took turns shopping and getting lunch from various vendors. It always does my heart good to watch "Sammers" out in public.  He was my first foster from the rescue (I can't count Delilah, since we adopted her within a few weeks of bringing her home.)  Sam loves everyone, especially kids. He's a big guy but well behaved and gentle. Lisa and Mark are always complimented on his excellent training.  They smile and simply acknowledge Sam's just a one-of-a-kind dog. ( His story deserves it's own blog entry.)
I talked my friends into making a side trip to see Ithaca Falls.  It has a short, relatively flat access trail and is one of my daughter and son-in-law's favorite spots.  In fact they had their post wedding breakfast with friends and the wedding party right there.
Ithaca Falls and the kids post wedding brunch.
That evening was a downright, unseasonably cold in the  50's  headed to a low in the 40's.  Mark is a master at campfires and he built us a good roaring one.  I kicked up some corn chowder I had made with smoked sausage, apple smoked bacon and a heaping pile of toasted cheesebread.  Mind you this is not bread with cheese melted on it, this is bread with the cheese baked right into it. Wow, un huh, I know and it is perfectly legal to buy and consume at will. Which we did along with much heartfelt campfire talk of dogs, family, dogs, the state of the world, good wines and dogs.  Good news too had come via voicemail, as my repair team reported a new tire had been located (it is not easy to replace tires on a vintage 84 Chevy RV) and would be mounted, balanced an ready to install tomorrow.
Life was good. I took it all in perhaps sensing the calm before a storm.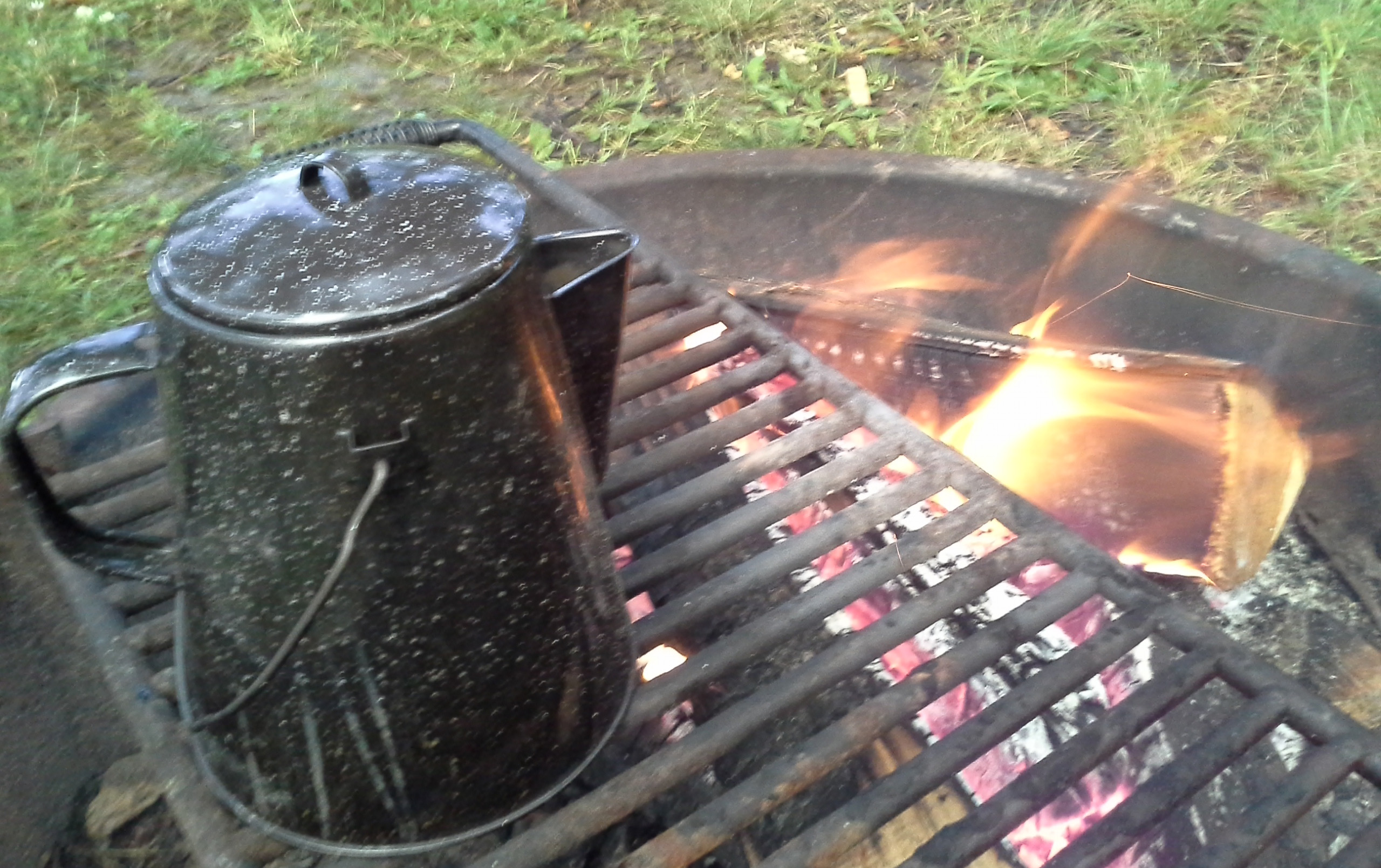 to be continued….
Walk gently on the path my friends and may adventure find you ready.