So fellow travelers, we all need safe havens, spaces of respite where we retreat, knowing what we find there will soothe, uplift and even strength our spirits to continue on this journey. I am grateful to have the Bedlam Farm Creative group page as an online haven for creativity and encouragement. A visit to "The Farm," as many of my fellow members call it, is sure to bring inspiration, smiles and yes tears of both joy and healing.  I am in awe of the members who write with focus, insight and even humor about the challenges they face from caring for aging parents, coping with cancer, dealing with rehab from addiction and inevitably experiencing the death of loved ones. The ability to find positive elements in the darkest of times is perhaps the greatest form of creativity.  Finding and encouraging Light is what life on "The Farm" is all about.
A recent post from a new contributor is an example of the ripple effect which often results from this process.
She wrote : "There are times when my animals lift my spirits so much more than the humans around me."  She went on to share how the animals she and her husband loved were helping her cope with his recent death.  She shared a picture of one of their sheep, who she said seems to be laughing at their antics to contain her.
As I read the comments welcoming her contribution, enjoying the wonderful photo of the laughing sheep and supporting her journey to heal, not once was an obligatory "sorry for your loss,"  deemed necessary. There are deeper ways to connect with one another in times of sorrow, ways which expand on the hope expressed in her post.  For me, it created a haiku, which I offer here along with her original photo ( reprinted with permission).  Another ripple of light in the sea of life.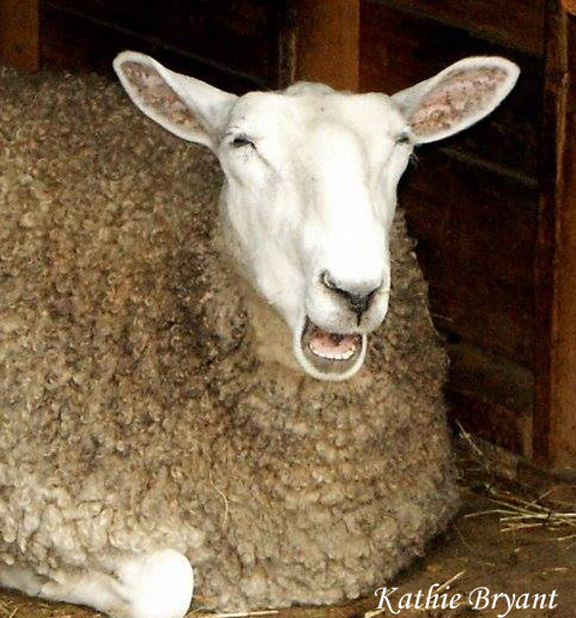 Moment of laughter
Pulling  joy from memory
Healing hearts with love.
Walk gently on the path my friends and may adventure find you ready.