So fellow travelers,  this is a picture of a jar of  the Best Pickles In The World.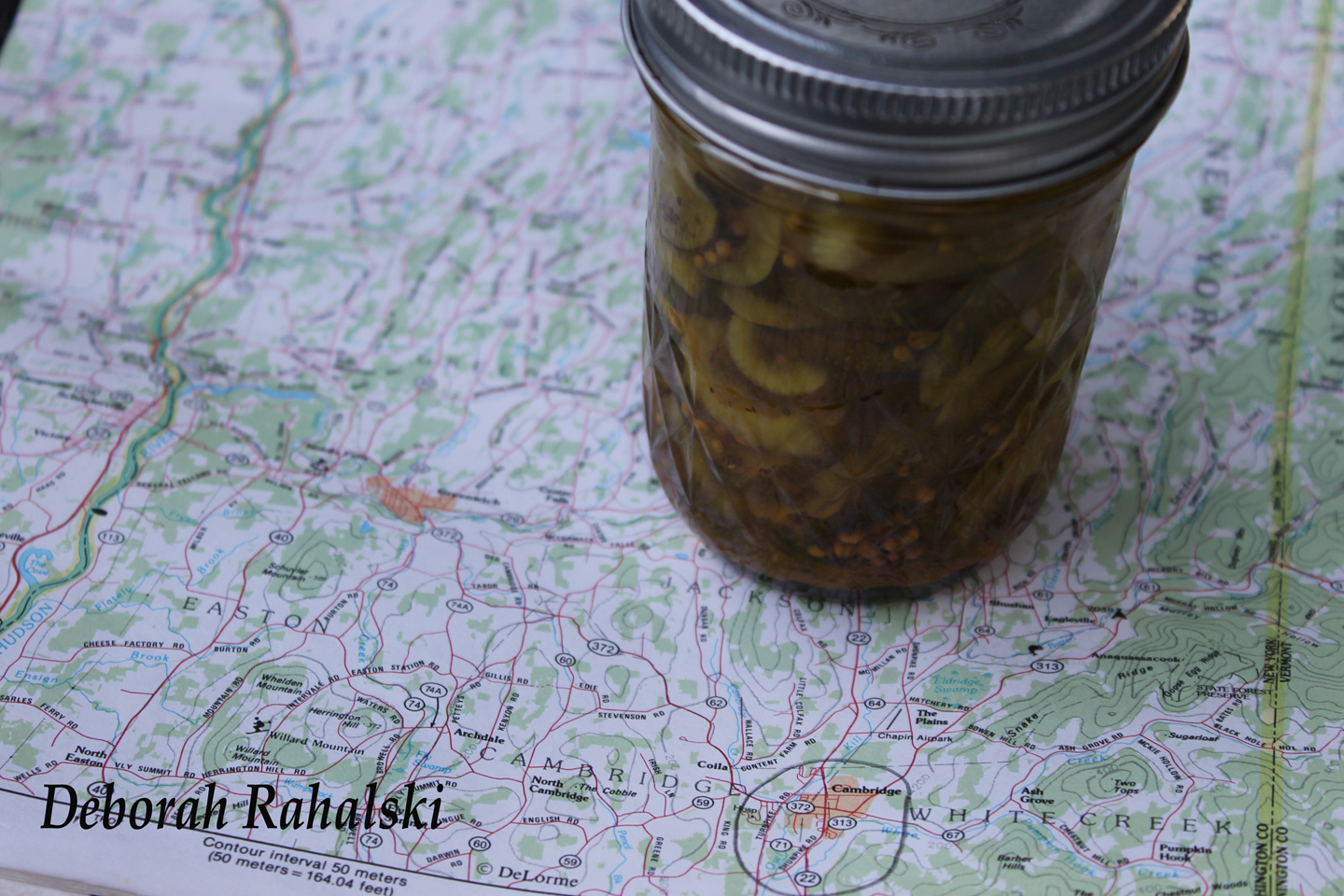 I can say this with certainty without having opened them because,  like life , these pickles are more about the journey than the end result*.
I acquired these miraculous pickles from my Roomate For Life, Kate Rantilla  during this weekend's Open House at  Bedlam Farm, hosted by author Jon Katz and his wife, artist Maria Wulf.  Kate and I first met last September when we bunked together at the home of Tim and  Cathy Hoff  on our way to my first Open House at Bedlam Farm.  We hit it off like bread and butter (which incidentally is the variety of pickles she gave me)  so it was no surprise to hear from her shortly after Jon announced the dates for this years Open House Events.  Did I want to room with her again, this time at CTK Retreat center in Greenwich where several fellow members of the Bedlam Farm Creative Group would also be staying? Absolutely.
As plans began to unfold for the weekend, it was clear as excited as we all were to be visiting Bedlam Farm again, this year's Open House weekend would be more about connecting with our fellow Bedlam Group members.  Jeff Anderson and his wife Laura  opened their home once again to us for a pre-event cookout.   Jon offered the Group a special time  for members to visit the farm to sketch and take photos and offered to join us in the mornings at the Round House Cafe breakfasts which grew out of a Facebook thread Kate and I started to gather ideas for meet-ups. Several group members, myself included went to Rupert UMC to hear Tom Atkins sermon as he led worship Sunday Morning.
At any given moment, in many locations on and off Bedlam Farm connections were being made between group members many of us meeting face to face for the first time.  First meetings that felt more like "cousins catching up at a family reunion,"  as one member described it.  We are old friends who've just met I kept saying.  We had so much to share and celebrate, like the publication of Jennifer Bowman's ebook  Finding the Trailhead.  Jon spoke several times to the public gathered at the Open House about what creating the  Bedlam Creative Group has meant to him, to us and in a broader sense to the world of social media.
From the first to final hugs I am still processing the impact of it all.  I know this much: if my first Bedlam Farm Open House was a starting point  for my creative spirit, then this weekend's experience was a definitive turning point.  Over the next few weeks, I will be posting photos and writing about the layers of awakening I sense are evolving.  For now I know I have come home with a whole new family of creative cousins….oh yes and The Best Pickles in the World.
Walk gently on the path and may adventure find you ready my friends.
*Editors Note: In no way is this meant to imply the end result of Kate Rantilla's pickling is not worth the journey.  Indeed we had her pickles at Jeff's cookout and they are delish. I would travel anywhere with her to obtain more.