So fellow travelers, we have arrived back home after a long circuit of family visits for the holidays. Most of the drive was a tense journey on slippery, slushy roads through misty bands of wind driven snow. (God bless my husband for driving.) It felt like a very appropriate metaphor for the stressful twists and turns which made this past year such a challenge to navigate.
But there were moments of glorious adventure, great joy and earnest personal insights too. Just like the weekend's cherished moments with family, the year now counting itself down brought gifts of love and laughter to ease the pangs of change and loss.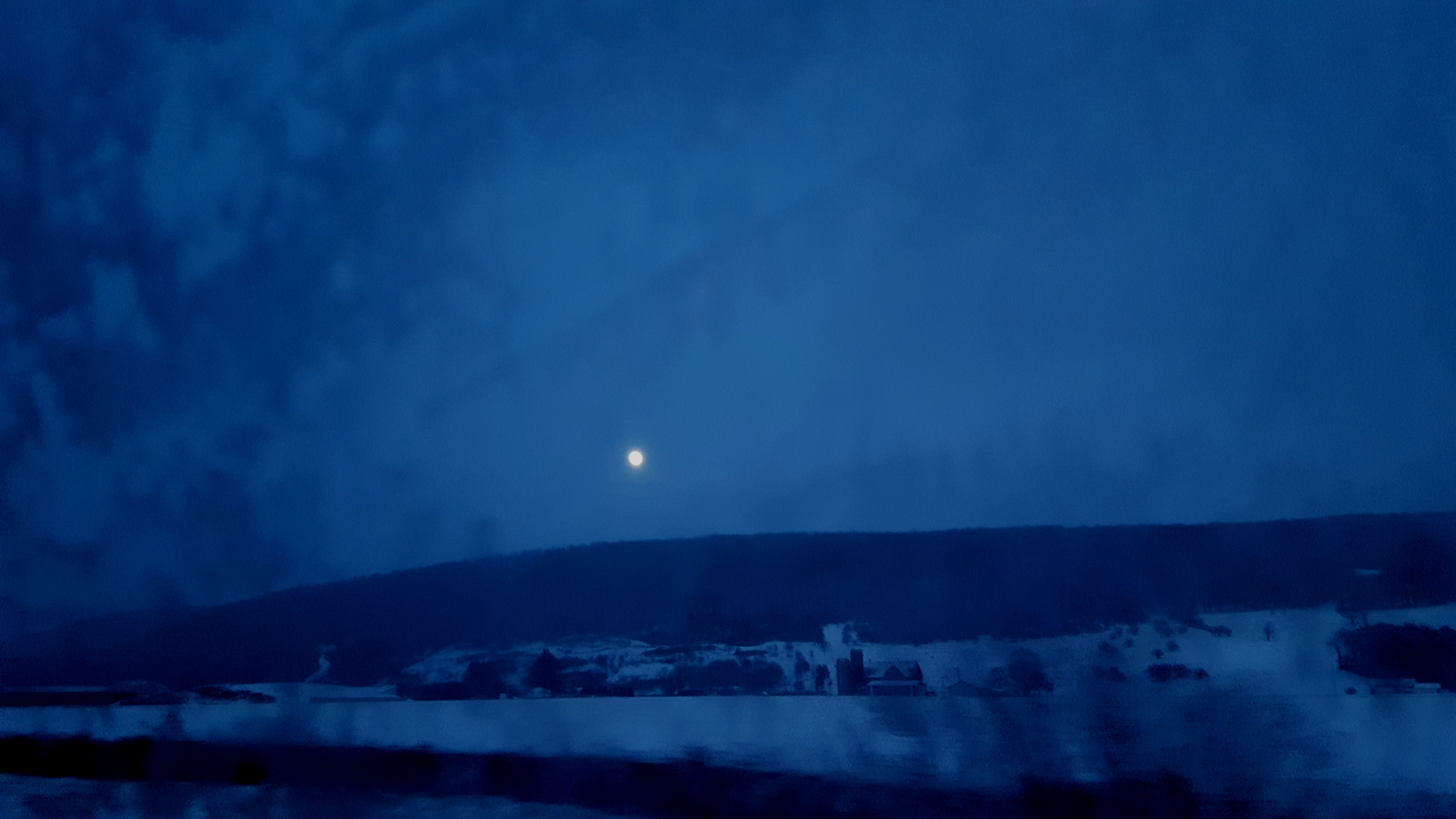 A bright full moon followed us on our drive home this evening and I realized this full moon is both the last full moon of 2017 and the first full moon of 2018. It too is a metaphor for my mind so full of thoughts about the coming year. To be honest I feel a bit of uneasiness regarding what lies ahead in the months to come although there is more hope in the mix than I felt a year ago.  There are many elements I am more than ready to leave behind when I change the calendar pages at midnight and there are lessons to carry forward to fortify the resiliency so essential to thriving in troubled times.
The last being first and first being last, are remnant puzzles from my Sunday School years, left unsolved by college comparative religion classes and only slightly clarified by meditative reflection on the yin-yang continuity of life's ebb and flow.  What I know now is simply this.  What will be will be and when what is falls beyond our control, all we are left to master is our response to it. Our response may be the only choice we have in some circumstances, but it is also the most crucial choice we make because it creates the framework of how those circumstances affect us and how we in turn affect others.
So I have chosen to carry just one resolution with me as I cross this Light bridge created by last and first moons: this year I intend to be mindfully present in as many moments as I can, to experience these moments as fully as possible as they happen, unfiltered by past judgement or future concerns.
To that intent, a simple haiku for the moons of 2017-18.
So first shall be last  
The fullness of an ending
Beginning afresh
Happy New Year fellow travelers. Thank you for joining me along the way. 
Walk gently on the path my friends and as always, may the adventure of this coming year find you ready.