So fellow travelers, one of my favorite photo "threads" running through the Bedlam Creative Group page is the window sill galleries. Jon Katz started the series a while back, honestly I don't remember when but they struck an immediate chord.  Soon all sorts of wonderful gallery photos began showing up.
There is something spiritual about these personal spaces.  The symbolism in each is both global and intimate at the same time.  The comments posted always speak to the interconnection between us, how a flower evokes a certain memory or a figurine shares a common collector.
Growing up, window sills were to be kept clear for quick and easy cleaning.  Even single objects were seen as dust collectors.  As soon as I had my own space, I began creating window sill galleries. My college dorm room window didn't have a window sill but I hung a little polka dot plant (botanical name hypoestes phyllostachya) in a pot from the curtain rods and stuck a plastic sun catcher on the window with a suction cup hook.
My first apartment had only one small window,  but it had strong wide window sill which I filled with small plants, some of my  favorite Japanese tea cups and a ceramic statute of Mickey and Minnie  Mouse shyly holding hands, a garage sale find that sadly didn't survive the nomadic years of my 20's.  My first house, which I am proud to say I managed to purchase as a single working woman, had lots of windows, but again, not many window sills although the kitchen did provide ample window space for small potted herbs. I rectified the problem by installing small shelves sitting on brackets under key locations. One of these I eventually relinquished to my cat who loved to perch among the plants looking out at the tiny back yard.  I relocated the plants,  velcroed some soft felt padding to the shelf and MomKat had her own little window sanctuary.
The house my husband and I have lived in for nearly 28 years does have wonderful window sills.  We bought the house soon after we were married ( as the realization that having only one bathroom was a serious detriment to martial bliss ) and have lived here ever since.  Almost every window has its own theme, a tradition both my daughters picked up.  When we had new windows installed I neglected to ensure the interior sills would remain wide enough.  I found other things to place in the new but narrower spaces.  Life is all about adapting to change.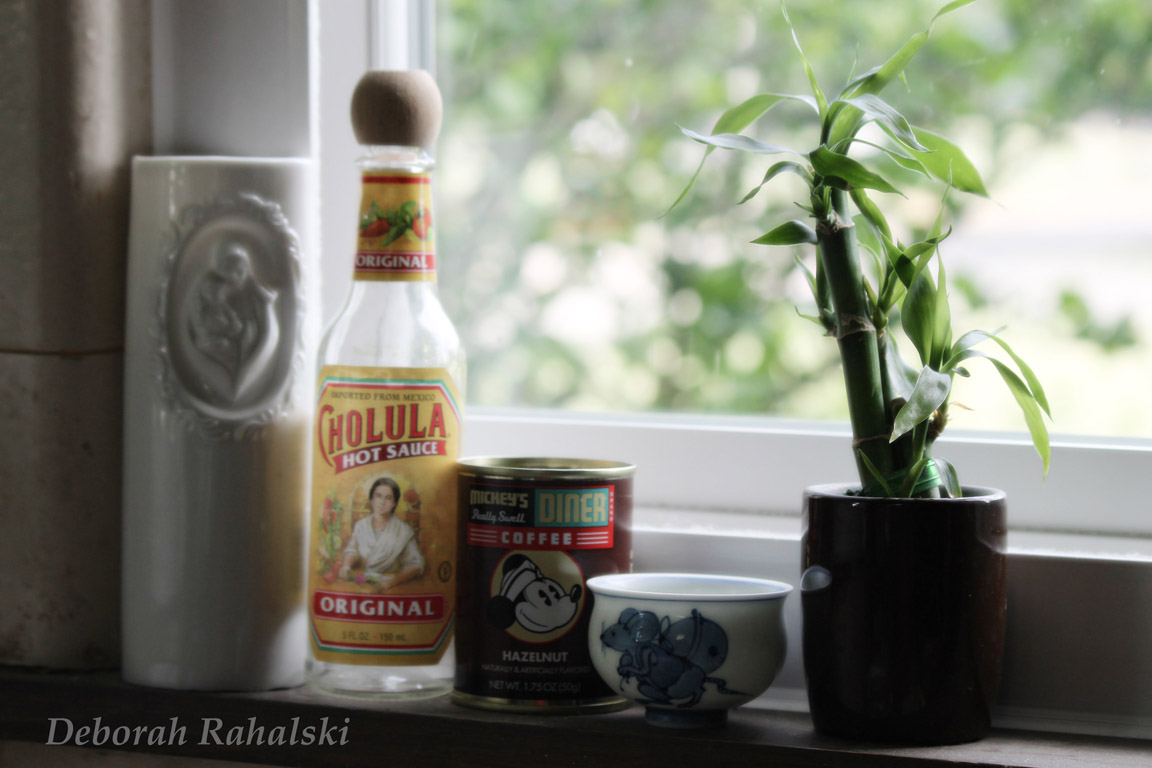 Currently my favorite window gallery is this one in my kitchen.  Yes there is a signature Mickey piece, one of my favorite Japanese sake cups and a bottle from our favorite hot sauce all framed by my favorite vase ( a mothers day gift)  and a new lucky bamboo plant.
I had not really thought of these visual arrays as "shrines" until Jon began posting his. As more people shared their window sill galleries and the stories behind them I began to realize how deeply spiritual these were. They speak of an Inner Faith without speaking to specific religions.   One of my favorites, includes a quote from the DaLaiLama.  It is a hallmark of the respect and openness within our group that not one person felt a need to instill their personal beliefs over the post ( and I know there are many who are quite traditional in their practice of faith. ) Every gallery is so unique and yet so many common themes run through this thread. It's a glimpse into the harmonic convergence that really does exist in our world if we look for it.
Walk gently on the path my friends and may adventure find you ready.